OBS (Open Broadcasting Software) is free and open source software for video recording and live streaming.
This is my experience and a workaround for low resolution, blurry text, when using the OBS Virtual Camera with Zoom.
Observations
OBS Studio v26.0.2, released Oct. 6, 2020, added an official Virtual Camera support, allowing OBS output as a camera to other applications. e.g. Zoom, WebEx, Skype/Teams, etc.
I did several tests using a personal meeting with OBS as the camera. I used a laptop, on Wi-Fi going through a VPN, as a way to simulate an attendee accessing the meeting from a different network. This process worked well, as the Zoom client received 1920 x 1080px resolution via the OBS Virtual Camera.
Unfortunately, when I went live, using a Zoom Education account, the output was terrible at 640 x 360 pixels, although bandwidth was fine. Students couldn't read the text, as it was too blurry. I had to zoom in a lot for the text to be deciphered.
I did a quick check of the configurations of OBS and Zoom, and everything looked as it should. Output resolution was set to 1920 x 1080px. I couldn't spend much time troubleshooting the problem, as I had to continue teaching my class.
Workaround
I started troubleshooting and researching immediately after class ended.
I read several posts where other people had the same issue with sub-par video quality. Thanks to Decoz.mcl for his post #468305 on the OBS forum, where he presented a viable workaround.
Here's the workaround to get High Resolution Video using the OBS Virtual Camera with Zoom.
On OBS
Start the Virtual Camera
Output a scene
On the host Zoom
Start the Zoom meeting
Turn off the video camera
Go to Share Screen > Advanced > Share content 2nd Camera
Click the "Switch Camera" icon at the top left of the screen until the OBS Virtual Camera scene is visible.
On the Zoom client
Nothing needs to change on the Zoom client
Checking Received Resolution
To see the Resolution being received on the Zoom Client:
When using the OBS Virtual Camera: Go to Video Settings > Statistics > Video tab
When Sharing the 2nd Camera: Go to Video Settings > Statistics > Screen Sharing tab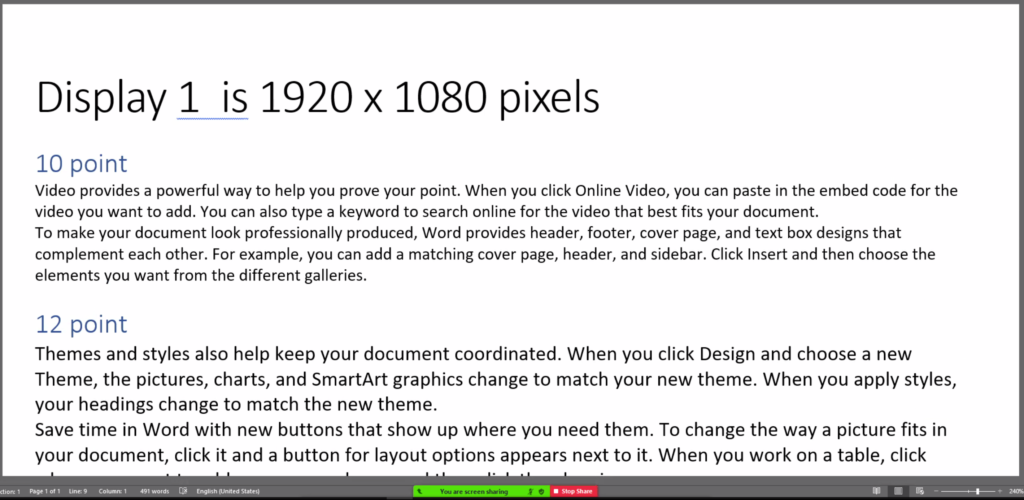 Environment
Zoom v5.3.2 (53291.1011) (Account Type: Education)
OBS Studio v26.0.2 using builtin Virtual Camera
Web Camera: Logitech C910 HD 1080p
Display 1 is 1920x1080px (Asus VX238)
OS: Windows 10 Professional v1909 (64-bit)
Host Computer Hardware: Intel i7 at 4GHz with 32 GB RAM, NVidia GeForce GTX 970 GPU with 4 GB RAM
Date Tested: 2020-10-17
Notice
OBS Virtual Camera Low Resolution with Zoom Workaround is a post from VisualsByChin.com which is not allowed to be copied on other sites.